December 28, 2016
Ricaldone Remo (The Long Journey-Italy)
"Currently residing in New York City, Jenai Huff is a singer and actress with an elegant and profound touch, and a very pleasing mixture of folk mixed with jazz and pop. A handful of discs of undisputed quality have enthralled a noted producer like Ben Wisch, who returns to work with her in this "Color Wheel", a refined album which reminds me a lot of David Crosby. Alongside of Ben Wisch, who plays keyboards on these songs, there is the exceptional New York guitarist and singer Eugene Ruffolo, the acclaimed Zev Katz on bass, who with percussionist Chris Marshak form an optimal rhythm section, and finally George Naha, whose guitar playing stands out with its quality and finesse. 



"Color Wheel" is balanced and deeply poetic, reflective and interior, planned and detailed, with its few and carefully considered covers and the 

compositional talent of a wonderful female 

figure like Jenai Huff. Among the first stand outs is an impeccable version of "What's Going on", one of the signature songs of Marvin Gaye, here reproduced faithfully, both from an instrumental and an interior point of view, while the originals confirm what has been previously stated, beginning with Color Wheel- crystal clear and heartfelt- to continue with Seconds and Inches, and onward with Time Stood Still in which the intermingling of piano and acoustic guitar in the hands of Ben Wisch and Eugene Ruffolo give the gift of constant emotion. 
November 9, 2016
Heyne - Kreiszeitung.de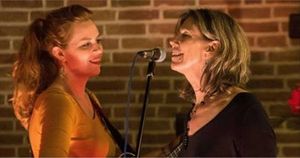 Rotenburg - Things always seem to happen when you least expect it (German idiom). "Two for one" - sounds like a sale's pitch with the exception that it applied in the realm of culture in the Michaelskirche of Rotenburg on Tuesday night.  Instead of the announced solo concert of US American Megan Burtt the 50 people in the audience were able to delight in two performances, both put on by "Songs& Whispers" in their series "Singer/Songwriter"  
In the first part fellow countrywoman Jenai Huff presented a tryst with guitarist George Naha, who had performed with stars like Aretha Franklin, Donald Fagen, or Roy Orbison. Here he advanced to the secret star of the evening with his unobtrusive accompaniment and occasional soli, which revealed his unbelievable musical talent.  The New Yorker Jenai Huff - visually a bit Mia Farrow, acoustically often Joni Mitchell - casted pensive sounds.  Themes like the birth of the first child or the sale of the parents' home: the mature woman knows, what she is singing about.  And of course, considering all life's experiences love can't be excluded.  When, at the end of an one hour set, she was asking, without blame just melancholically: " Where did our love go?", then her songs inhabited authenticity.    
   
At the beginning she had to get used to the German audience, she was revealing during the break:" People are really listening here, up to the last cord, but they often keep a serious expression on their faces."  Her recent album "Color Wheel", which contains some of the songs she performed, was produced by someone no lesser than Marc Cohn's producer, Ben Wish. 
   
Touched by the audience and most of all the "location" was Megan Burtt, half the age, who performed in the second part: " This feels like day eight: time stands still."  She filled up that timelessness with hints of Blues and her voice, which carried and dominated over the subtile music, just like her colleague.  Burtt also works many personal experiences into her lyrics.  In "Ghost Town" it is the place in the heart, where things are locked away, the stuff that "nobody is supposed to know". Or in "You're not the only one" it is the feeling of talking to a wall.  One highlight: the cover version of "In the Morning" not from the pen of Norah Jones, but the guitarist in common, Adam Levy, who was perfectly replaced this evening by George Naha.   The only Jazz- inspired piece by the grandchild of the Jazz veteran, who had already shared a stage with Pat Metheny, was more than a pleasure to listen to.    

So at the end the audience was able to enjoy a spontaneous  trio encore. And church board member Frank Lumplesch can be assured, that his booking of two more gigs in March and November 2017 was the right horse to bet on."Even if it is not masses showing up: the series has established itself in a humble way."  The audience's applause "with serious faces" supported his statement. 
http://www.kreiszeitung.de/lokales/rotenburg/rotenburg-ort120515/zwei-eins-6961619.html 
David Hintz - FolkWorld eMagazine #61: CD Reviews (United Kingdom and Germany)
Jenai Huff's songs work in a folk singer songwriter manner, but with a lush production that has a rather timeless quality to it all. And in addition to her fine original songs, she has her own special takes on Love's 'Old Man' and Marvin Gaye's 'What's Goin' On'. These are two excellent choices that she seamlessly weaves into her album. This is a class release and if you have not heard of Jenai Huff before now (like me), it may be high time to take her LP for a spin.
http://www.folkworld.de/61/e/cds4.html
August 29, 2016
Paul McGee - Lonesome Highway (Ireland)
I
f there were a category to place this sublime artist into then it would be Jazz-Folk. The wonderfully crafted 9 songs included here are a real joy and the atmosphere created by the production is one of quiet calm and a confident maturity. This artist released her debut album in 2013 with Transitions and her soulful voice, reflective words and subtle song arrangements give her craft an immediacy that cannot be underestimated. 
Currently living in New York City she has surrounded herself with a small group of special musicians with Ben Wisch (producer, piano and keyboards), Eugene Ruffolo (acoustic guitar and background vocals), George Naha (electric guitar), Zev Katz(upright and electric bass),  Chris Marshak (drums and percussion) and Jonathan Preddice (cello). 
A cover version of the Marvin Gaye classic What's Going On is beautifully delivered and apart from one other cover which is a version of Old Man(Bryan MacLean), the Love classic song from Forever Changes album  the effect is that of being in the presence of a skilled, sensitive artist who is in total control of her place in the creative firmament. Think Joni Mitchell and add a little blend of understated, restrained, classy midnight soul. One of the best releases this year.
http://lonesomehighway.com/music-reviews/2016/8/8/reviews-by-paul-mcgee.html
July 19, 2016
Rootstine eMagazine (Belgium)
About 4 years ago, the debut album of singer and songwriter Jenai Huff was released. It was titled 'Transitions. She currently lives in New York but was born and raised in California. At the end of 2013, she released an EP of her originals titled "Grace & Elbow Grease" and now there is a second full CD from this artist on the record market under the title "Color Wheel". 
Her melodies, her meaningful lyrics and her crystalline voice will evoke comparisons to many listeners with other singers such as Alison Krauss, Kate Wolf or Joni Mitchell. On this record she has brought together nine songs with seven of her own new compositions and two cover songs. 
The first cover is one of the lesser-known songs "Old Man" from the album "Forever Changes" from 1967 by American psychedelic rock band 'Love' in Los Angeles. 'Love' was a sixties group around the charismatic lead singer Arthur Lee, who is deceased too early at only the age of 61 in 2006 from the effects of acute leukemia. 
A second cover on "Color Wheel" is the much more well known classic "What's Going On," the title track from the eponymous album from 1971 of soul legend Marvin Gaye, also a very charismatic figure who left us far too soon in 1984 when he was just 45 years old. Jenai Huff brings a much quieter, almost acoustic version of this top hit on this album. 
The musicians who assisted her in the recording is producer and keyboardist Ben Wisch, acoustic guitarist and backing vocalist Eugene Ruffolo (known to us at Roots Time as an excellent singer-songwriter) solo electric guitarist George Naha (and co-writer), bassist Zev Katz, and drummer Chris Marshak. On some songs, we also hear from Jonathan Preddice playing the cello. 
Of her own compositions, we especially want to focus on the songs "Color Wheel" which begin the eponymous album, the intimate song "Where Did It Go?" (Which you can listen via the attached video) and the emotionally charged songs "Time Stood Still" and "Now it's Time". There is a jazzy atmosphere on all the songs on this record by Jenai Huff. It is an album that contains high quality songs and therefore definitely recommended for a quiet and romantic hours, around the onset the actual evening twilight. 
(Valsam) 
"In 2012, we Awarded a cum laude to the debut record 'Transitions' by American singer-songwriter Jenai Huff. Her record 'Color Wheel' is of equally high quality and clearly deserves the same recognition, both for her seven self-penned compositions as well as for her excellent cover versions, or "Old Man" from the psychedelic rock band 'Love' and ' What's Going On "from soul legend Marvin Gaye. This album is highly recommended for the late, relaxing and romantic evening hours. "- rootstime.be
http://rootstime.be/index.html?http://rootstime.be/CD%20REVIEUW/2016/AUG1/CD25.html
Artie Martello - Mostly Folk Radio Show #185 (New York) - Live Interview
I am grateful that Artie asked so many great questions.  You can listen to me talk about my life, my philosophies and what music means to me along with playing some songs.
See Link Below
February 20, 2014
David Kidman - Fatea-Records eMagazine (United Kingdom)
California-raised but now relocated to New York City, Jenai sang as a child then (inexplicably?) did nothing with her voice for something like 20 years, only finally being persuaded to rekindle the flame a couple of years ago by her husband Doug Ingoldsby. She released an album Transitions (this one, sadly, escaped my radar entirely), which apparently consisted entirely of covers of her favourite songs; the critical acclaim from this experience then in turn encouraged Jenai to write some songs of her own, and this new EP-sized collection is the result. Confessional in style, but shot through with a loosely Americana sensibility and therefore accessible rather than exclusive, these songs exhibit a quality of sanguine reflection and hope amidst crisis and confusion. 
The title number is an optimistic light-at-the-end-of-the-tunnel road-song, whereas the closing Splintered Light is a similarly hope-filled vision; between these poles, Jenai examines the internal process that comes with the desire to live her dreams, ponders the potential fulfilment of desire (Just Like Me) and puts herself inside the mind of a mother who's just lost her child to an unreasoned (and unpunished) killer. 
There's plenty of promise in these songs, but they come with a caveat – the leisurely tempo chosen for all six of the songs' musical settings is very similar and in the end proves altogether too uniform, with the result that the songs tend to merge into one another when the disc is in continuous-play mode. However, the supporting ensemble (comprising a handful of hand-picked musicians: Ben Wisch, Kevin Barry, Zev Katz and Chris Marshak) is most sympathetic to the mood of Jenai's lyrics, and their gentle and slightly jazzy ambience is perfectly contoured to Jenai's deep and soulful voice.
March 5, 2014
Max W Achatz - Country Juke Box (Germany)
The new songs are perfectly tailored to Jenai Huff and offer her unique voice the necessary space to unfold fully. Born and raised in California she is currently living in New York. This charismatic singer / songwriter brightens her compositions with a variety of timbres, without losing their musical roots from her eyes. The songs convey Jenai's pleasant, multi-faceted, sometimes melancholy individuality best. In the studio, it was again the two-time Grammy winner Ben Wisch as producer …. A real stroke of luck. The woman knows what is good for her songs. The mix is very refined on Grace And Elbow Grease again with Country Folk and a light sprinkling of jazz to release some big emotions.
January 7, 2014
Rootstime eMagazine (Belgium)
The California-based singer-songwriter Jenai Huff worked many years behind the scenes, facilitating the musical careers of other artists, before she decided to move to New York in 2012. From there, she herself moved to the foreground with her beautiful album "Transitions". 
The success of this album, with songs only written by other composers, strongly motivated her to focus intensely on composing her own new songs. 
From the result of this hard work she  selected six tracks which were collected on the just released "Grace and Elbow Grease" ep. Besides the wonderful title track, there are five tracks, giving proof of outstanding singing-songwriting work. 
Without raising her voice, Jenai Huff brings us musical pearls through songs like "Make This Be" en the restrained but Majestic "Come Home". 
"The song "Living My Dream", forms a bridge to the song "Just Like Me", an intimate and melodieus song, which you can hear on the video included. With the sixth song "Splintered Light" we've already reached the end of this mini-record. 
In recording these six tracks, Jenai was supported in the studio by, among others, Kevin Barry on acoustic- and electric gitars and lap steel and by Ben Wisch on piano and keyboards. The last mentioned  produced  her solo album and was now again responsible for producing this ep. 
Vocal support on some of the songs  came from singer Shawn Thies from Santa Barbara as well as from a someone we've known for many years: NewYork singer-songwriter Eugene Ruffolo. 
We sincerely hope that this ep is only a precourse for Jenai Huff. We hope that next year she will pleasantly surprise us with a full CD! Her qualities as singer as well as her beautifully composed songs, make every sincere music lover yearn for more of this beauty. 
"Jenai Huff discovered her talents as a singer with the release of her debut album 'Transitions' in 2012. With the six tracks on her ep 'Grace And Elbow Grease', she now also discovered her abilities to compose heartfelt and intimate songs, of which we hope to hear many more on a future full cd."
http://www.rootstime.be